AT BOOTH & ASSOCIATES, OUR GOAL IS PROJECT EXCELLENCE IN EVERY STEP.
A dedication to quality built our reputation.

BOOTH SERVICES CAN ADDRESS A WIDE RANGE OF COMPLEXITY FOR OUR CLIENTS.
We're part of a national network.

WE SPECIALIZE IN LONG-TERM PLANNING TOWARD OUR CLIENT'S GOALS.
Comprehensive long-term solutions.

OUR TALENTED AND INNOVATIVE TEAM MEETS CHALLENGES HEAD-ON.

BOOTH SUCCESSFULLY INTEGRATES INNOVATION, QUALITY, AND COST CONTROL INTO EVERY STEP.
We integrate Quality with Experience.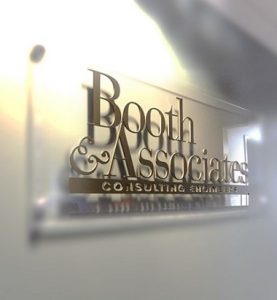 Booth & Associates, LLC is a firm unlike most.  We are a large firm of consulting engineers which began serving our utility clients over fifty-five years ago.  But, while Booth has continuously and progressively expanded into a multi-office, multi-state engineering firm, we have maintained enduring relationships with our clients who began with us.  Our subsidiary companies, many of which have also been in business for 50 to 60 years, are among the most successful and reputable contractors in our business.
In those fifty-five+ years, we've developed a thorough understanding of the energy business; where its been and where it's going and make it our business to look down the line for technologies, efficient designs and cost saving innovations. We strive to continually expand our knowledge base, hone our skills and think creatively to better serve our customers.  Booth proudly belongs to the PrimeLine U.S. operating companies and its larger network of energy and engineering services.  Customers rely on our companies to deliver turn-key solutions that help solve their day-to-day challenges and planned growth.
And, as we believed when we began as a family-owned company, that common goal of service excellence still unites us.
Today, as consulting engineers, Booth provides a wide variety of engineering services to the energy and utility industries, including; Structural Engineering, Civil Engineering, Project Management, Procurement, Telecommunications, Surveying and a variety of Specialty Engineering Services.
Please contact one of our Booth & Associates team members for any questions you may have at 919.851.8770 or email us at info@booth-assoc.com

Our staff includes some of the most talented professionals in the fields below:
↓
FINANCIAL & SYSTEM PLANNING
TRANSMISSION & DISTRIBUTION
SUBSTATION DESIGN & RELAY
UNITING POWER WITH PURPOSE IN ENERGY
At Booth & Associates, we have spent over fifty-five years developing our thorough understanding of the global energy and utilities business; where it's been and more importantly, where it's going.  Our focus at Booth is forward and our goal, to see what's coming down the pipeline in technology, efficient design, and cost saving innovation to bring our clients the most comprehensive solutions available.
We continually expand our knowledge base, hone our skills, and think creatively to better serve our customers.
THE FUTURE OF POWER
We are proud to offer even more extensive expertise with the expansion of our client base and service areas.
We draw from the past, but engineer forward, consistently seeking the most progressive technology and the best and brightest in their fields. Our firm has endured on a base of seasoned professionals while continually adding skilled talent. We are always looking to broaden the scope of successful projects we can bring to our clients.
At Booth, we owe our industry-leading reputation as consulting engineers to a consistent and progressive approach to our projects. We hire those exceptional people who demonstrate the potential to grow and our firm's culture here at Booth reflects that.  Booth rewards initiative and encourages sharing knowledge and experience to better meet our client's needs successfully.
We have expanded to additional offices in Charlotte, NC, Summerville, SC and Baltimore, MD, as well as becoming part of the PrimeLine U.S. nation-wide network of providers.